Nieuws
Article published in Communications. European Journal of Communication Research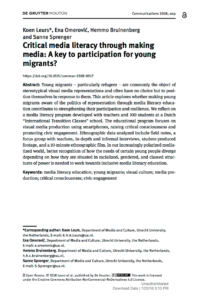 Under the careful guidance of special issue editors Kevin Smets (Vrije Universiteit Brussel) and Cigdem Bozdag (Kadir Has University, Istanbul) we have been able to publish an article documenting our experiences running the MMM critical media literacy program with/for young migrants in spring 2017 in Communications, Journal of Communications Research. The article will appear in a special issue on Representations of immigrants and refugees.
Click here to access the article: https://www.degruyter.com/view/j/comm.ahead-of-print/commun-2018-0017/commun-2018-0017.xml?format=INT 
The free, open-access article can be downloaded using this link: https://www.degruyter.com/downloadpdf/j/comm.ahead-of-print/commun-2018-0017/commun-2018-0017.pdf
Young migrants – particularly refugees – are commonly the object of stereotypical visual media representations and often have no choice but to position themselves in response to them. This article explores whether making young migrants aware of the politics of representation through media literacy education contributes to strengthening their participation and resilience. We reflect on a media literacy program developed with teachers and 100 students at a Dutch "International Transition Classes" school. The educational program focuses on visual media production using smartphones, raising critical consciousness and promoting civic engagement. Ethnographic data analyzed include field notes, a focus group with teachers, in-depth and informal interviews, student-produced footage, and a 10-minute ethnographic film. In our increasingly polarized mediatized world, better recognition of how the needs of certain young people diverge depending on how they are situated in racialized, gendered, and classed structures of power is needed to work towards inclusive media literacy education.
Keywords: media literacy education; young migrants; visual culture; media production; critical consciousness; civic engagement