Nieuws
Deutsche Welle Akademie expert network Media and Information Literacy kick-off in Tbilisi (Georgia)
Our project team member, Ena Omerovic, was in Tbilisi (Georgia) last week 25-27 April for a founding MIL (Media and Information Literacy) experts meeting organized by Deutsche Welle Akademie (DW). Together with another 14 MIL experts from many countries (Palestine, Namibia, Uganda, Cambodia, Bolivia, Germany, Georgia, etc) this group will regularly come together and make collective efforts in identifying global and diverse issues in the field of MIL, and discuss suitable and sustainable solutions to them, combining their knowledge and expertise from working in the field with MIL. 
The first expert meeting lasted three days in Tbilisi. The first day was aimed at participants getting to know each other and the following days they made plans about further aims and activities for this MIL network. 
"It was inspiring to hear from colleagues working in MIL about the challenges they face in their countries, and which efforts they make to tackle them. Also hearing some MIL success stories gave the whole group an even a stronger incentive to pursue advocacy in MIL locally, nationally and internationally, as our network will intend to do. Colleague Osama Manzar works from Delhi, India, and is the founder of Digital Empowerment Foundation, who are to thank that now 400 remote locations in India have the information technology infrastructure, facilitating digitally and media literate citizens, exercising the access and right to information. Prossy Kawala makes efforts in Uganda for civic engagement through social media. Her organization Vital Voices has been training local government officials to use MIL as a tool to raise local issues. Her organization has also trained 200 students in making media using #Mojo. Vibol Mam works in Cambodia. He also uses MIL to raise local issues, online, for citizen engagement
Eddie Avila is the director of Rising Voices, outreach initiative of Global Voices. Eddie's project is concerned  limiting media representations about and from the indigenous people in Bolivia. Media Cloud is a media database his organisation used to collect numbers about media representations, and use the outcomes (tones and trends on certain topics) to raise awareness and raise new voices from the marginalised communities in Bolivia. Jon Roozenbeek, PhD candidate at Cambridge University has developed a game to teach people make fake news (www.getbadnews.com). He wants to expand his game to other places in the world. By learning how to make fake news, he believes consumers become more critical also when consuming fake news.  These are just a few of the exciting projects colleagues are working on in the field of MIL. 
I was also very happy to have met Joost van de Port, Tamar Kintsurashvili, Nadine Gogu, Hania Bitar, Alexandre Bianquini Do Amaral, Naglaa Emary and hearing about their work and their thoughts on MIL issues.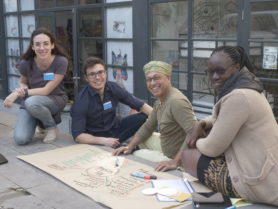 The next meeting is planned at the Global Media Forum in Bonn, 9-13 June 2018.